About Us
The history of Sturdevant's Auto Parts has spanned nearly a century.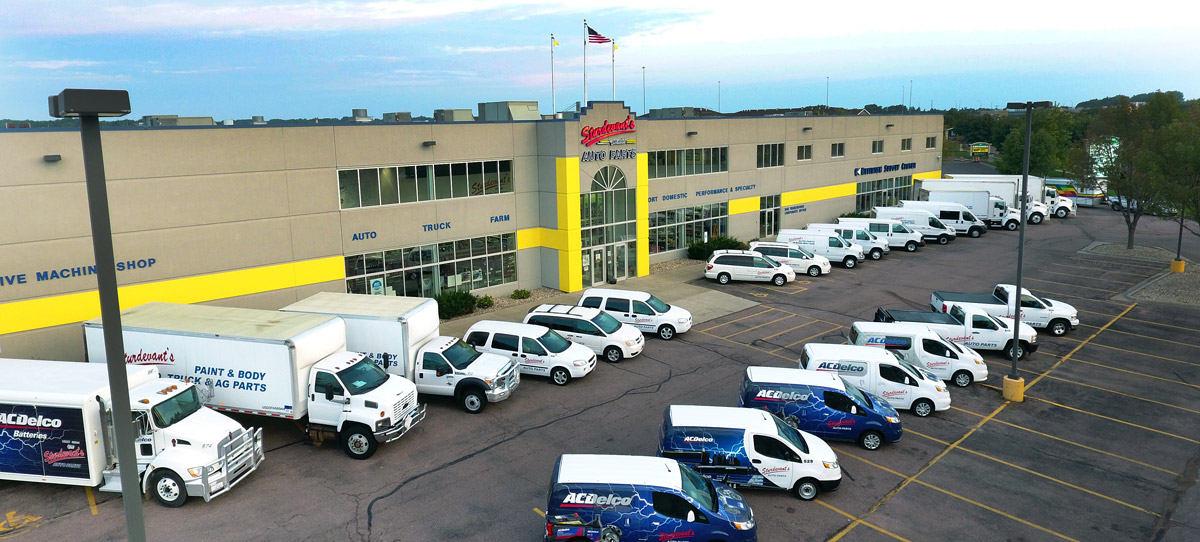 1922
Charlie Sturdevant opened Sturdevant's Auto Electric in Wahpeton, ND.
1932
Charlie's younger brother, Arvid Sturdevant, opened an auto electric and carburetor repair service, Sturdevant's Auto Electric, in Pipestone, Minnesota.
1951
Arvid's son, Jack, joined the company and began to transform the business from an auto electric service business to a wholesale auto parts company.
1972
The company moved its headquarters to a new facility in Sioux Falls, South Dakota. The retail operation was developed from the wholesale distribution of parts, and Sturdevant's Auto Parts was born.
Jack's sons, John and Tim, joined Jack in the family business and became the third generation of the Sturdevant Family to continue expanding the company with an emphasis on quality and integrity.
1998
Sturdevant's constructed an 80,000 square foot building on 8 acres near interstate 29 in Sioux Falls' rapidly developing west section. The parts warehouse, along with the corporate offices, training center, a retail store and Refinish Supply Center moved into the new building in June, 1998.
2001
Sturdevant's completed a merger with the northern Sturdevant family stores. The North Dakota and Minnesota locations were established and became an important part of the company.
2008
The warehouse was expanded by 90,000 square feet, putting the buildings square footage at a whopping 170,000.
2012
Jack passed away, leaving a legacy of providing high quality products and service to customers. Tim Followed as CEO of the company.
2017
John retired, but the team welcomed into the business a fourth generation – Tim's sons, Griffin and Max.
Today
Sturdevant's SAE Warehouse is headquartered in Sioux Falls, SD, and is the largest supplier of auto parts and accessories in the region. The state-of-the-art warehouse houses $14 million worth of auto parts.
Sturdevant's Auto Parts now operates 49 retail stores and two warehouses located across South Dakota, North Dakota, Minnesota, Iowa, and Nebraska. Additionally, Sturdevant's provides parts to more than 60 Pronto Affiliated independent auto parts stores and other independent jobber locations.
Memorabilia Gallery
Take a look at some of the Sturdevant's history in the image gallery below.
Proud Employer of Veterans
The Sturdevant Company is a proud employer of veterans, which make up 16% of its total employee base, and has received state and national awards as "an outstanding employer of older workers who are veterans."
As it nears the milestone of 100 years, the Sturdevant company has seen many changes as it has evolved and grown to meet customer needs. One thing that remains steadfast for this locally owned, family business is its core values of integrity, quality products and commitment to the needs of the customer.